My legs felt shaky and I was nervous, very nervous and this although I wasn't even sitting in my boat, just holding a camera. About 24 m (80 feet) below me, the white aerated water hit the surface with a powerful roar. In the other direction, high above me, Dennis was sitting in a pool, waiting for the thumbs up. Sometimes I could see the tips of his paddle blades sticking up, as he moved around, and once in a while he paddled out, to a position where we could barely see each other, looking for my signal. "What were the safety guys doing down there? Why was it taking so long?", I said to myself. I bet Dennis was getting impatient up there and a disturbance in his concentration at this moment would be disastrous. If he freaked out now, that could be the last thing he did…
It was Monday the 16th of July 2001 and we were on our way from Idre, in Sweden, to the Röa Falls in Norway. We had spent the weekend in Idre, competing in a freestyle event, that was part of the Swedish Cup. Dennis Franzén organized the whole thing and had set us up with excellent accommodation. This meant sweet rooms with soft beds, bathroom, shower and cable TV. Due to the super fun party on Saturday night, we had spent the whole Sunday in bed watching TV, not lifting a finger. But now it was time for some action again.
A couple of days earlier, Dennis had told us about a really hard first descent he had been scouting for years. The name of it was the Röa Falls or "Röafallene", as it's called in Norwegian. A huge waterfall in the river Röa, that is a tributary to "Trysilelva". Located about 20 minutes north of Trysil in the direction of Engerdal.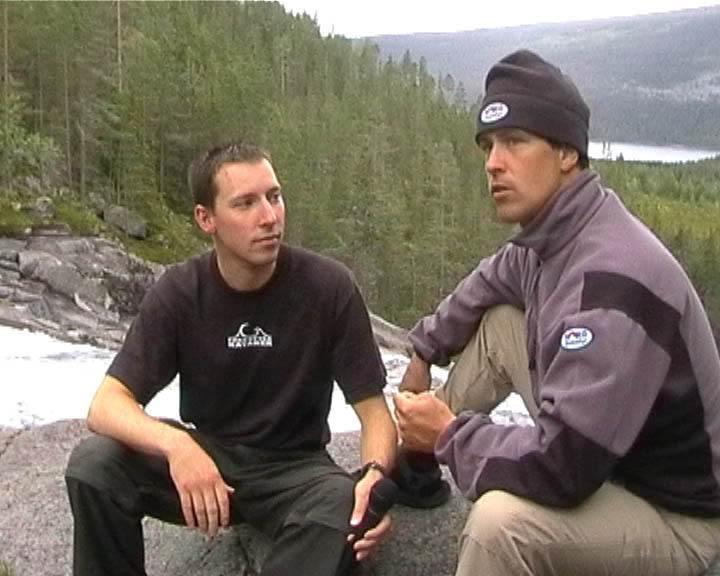 He said that he had decided to do it on Monday and showed us some video of the falls. I remember that I thought to myself that the vertical section of the drop looked high and the stuff before that was probably rather hairy, but it still didn't look too bad. This would definitely be cool to capture on video, so we told Dennis that we were in for the Rřa project.
After an hour or so of driving, we were finally closing in on the falls. The radical increase in altitude for the last kilometer of the dirt road gave us a promising sign of the existence of very steep whitewater. We parked our cars and headed for the roar of raging water we could hear a few hundred meters into the forest.
As I got closer to the roaring sound, I could see something big and white start to appear behind the tree branches. Suddenly there it was, the Röa Falls. What a sight! This was nothing like what I had pictured myself after watching the video. What lay in front of me was far bigger and scarier than I even could have imagined. You got an adrenaline rush just from staring at it. Dennis video hadn't done it justice. (Neither do our video, but the overview photograph gives you a rough idea of the actual size.) The last vertical freefall had to be at least 15 m (50 feet) high. But this was just the easy part, above that you had to bounce down rocks, through an almost vertical slope, during a very long distance. I guess that the whole thing might be like 35-40 m (115-130 feet) high. This had to be one of the sickest drops I had ever seen and Dennis was attempting to run it.
There was no doubt that running this drop would involve a very serious risk of severe injuries or even death. I was puzzled. Should I try to talk Dennis out of it or should I let him decide for himself. If something went wrong I would probably feel responsible for it. But on the other hand, Dennis had been scouting this drop for four years; even diving in the pool, to make sure it was deep enough. It was no impulse decision, he had been thinking about this for a long time.
Was it a crazy idea, to even think about running this drop? Well, I don't know, I guess some people would say that, but still I also understand the attraction a waterfall like this has on a kayaker. There is some kind of force that always brings you back. There are several drops that I myself have been scouting for years, some of them I have finally run and some of them are still out there, waiting for me or someone else to attempt.
I hadn't even scouted the lines in this case carefully myself, but I knew that some other very experienced hair boaters had deemed the drop to be unrunnable. But since Dennis had more information than me to base his decision on, I respected it and decided to give him full support.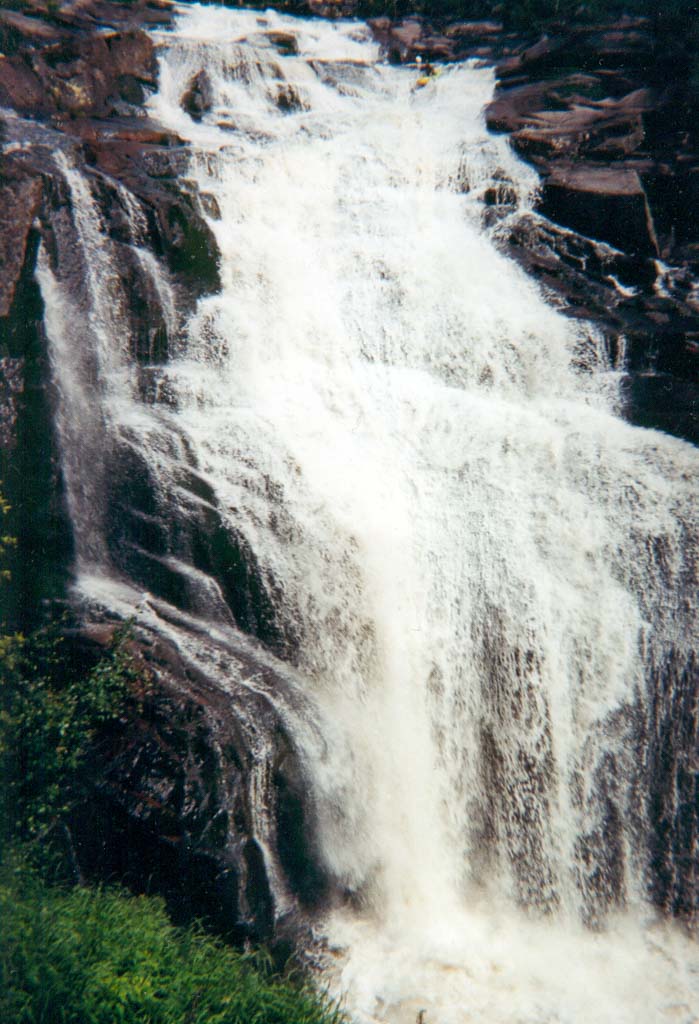 After scouting the drop we all got into our kayaking gear and started to prepare for the descent. Dennis first psyched himself up by listening to some heavy rock music in his freestyle. To warm up and get the adrenaline flowing, he started with a 24 m (80 feet) jump into the pool below the fall. The first jump went well, so he also made a second, sliding jump from the other side of the gorge.
Now he was ready for the real thing, so the safety guys helped Dennis to carry his boat to the top pool where he would start. After that they begun to climb down to the pool, below the fall, where they were supposed to be ready to rescue Dennis if needed. At the same time Rikard and I got into position with our video cams. I was supposed to capture a side view of the drop, from the rock that Dennis jumped off. This would give me a view from above of the last section of the drop.
So there I was, standing on the edge, at a dizzying height. I was nervous, very nervous, and this from just being a spectator of what was about to happen. "If I'm this nervous, I don't even want to think about how nervous Dennis must be", I thought to myself. He was ready in his boat now, sitting in the pool waiting for the thumbs up from me. In my turn I was impatiently waiting for a clear signal from the safety guys below the drop. They didn't seem to be ready yet. I knew how seconds could feel like minutes in a situation like this so I started to worry about that Dennis concentration would be disturbed if we delayed him any more.
Finally I got the signal from the guys below. I stretched my arm up in the air with my thumb up and waited for Dennis to recognize it. After a few seconds I got his confirmation. It was time for action. A thousand thoughts flew through my mind and I really wondered what was going on inside Dennis head at the moment.
I bit my jaw together and held firmly on to the camera while waiting for him to appear. There he was, coming over the lip, paddling hard. "This is it, Dennis, it's now or never", I said to myself as I prayed for him to succeed. In just a couple of seconds he had gone down the first part of the drop, but he was going extremely fast, bouncing down the rocks, and getting a lot closer to my river right side than I expected. Before I had time to think he had swooshed before me and disappeared. It went so fast that I didn't know if I got him or not. I just heard the ominous sounds of plastic hitting rocks very hard at high speed.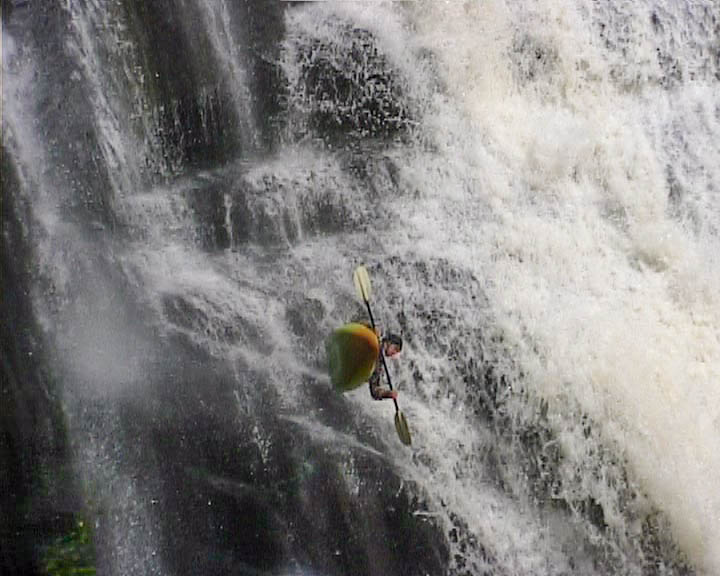 At this moment everybody almost freaked out, since we thought that the kayak had broken by the impact. I directed the camera towards the bottom and after a few seconds I found the boat lying upside down in the pool. The safety guys that stood down there, have afterwards told me that the time he spent under water before he popped back to the surface seemed like forever. Everybody was holding their breath and a fateful moment later he rolled up and signaled that he was okay. We were all screaming and what a relief we felt.
Unfortunately I knew I had screwed up the filming, because since Dennis got so close to river right, I couldn't capture him in that angle from the kneeling position I was in. Stupidly I hadn't secured myself so that I could hang myself over the edge. If I had done that anyway, in my position, I would probably have fallen down into the gorge.
"Then suddenly I start bouncing down this last slide and I felt myself going airborne"

Dennis Franzén, interviewed in July 2001
Fortunately Dennis didn't kill me for screwing up the video so afterwards I got to watch the last part of the descent from Rikard's camera. He got the whole run from his angle. After getting to the point where I pretty much lost him, Dennis got so much speed that the boat started to bounce uncontrollable. After going airborne for a while he hit a rock in a way that spun the boat 180 degrees. At this moment Dennis just assumed crash position and hoped for the best. Luckily the boat continued with a perfect angle into the pool, missing the dangerous rocks by inches, hitting the water backwards, completely reversed. The boat didn't break but his spray deck popped and one of his elbow pads was ripped off. Dennis himself got away with no injuries at all, but it doesn't take much imagination to realize that it easily could have gone otherwise.
A happy ending of a thrilling day. Afterwards the others went back home to Sweden and Dennis and I went further into Norway, to the Sjoa Festival, searching for more whitewater adventures.

Paddler Profile
Name:
Dennis Franzén
Age:
30
Home base:
Idre, Sweden
Sponsors:
Haglöfs
Occupation:
Organizing adventure activities through his own company Nordäventyr.
Years
kayaking:
10. Has done over 20 first descents of rivers and waterfalls.
Creekboat:
Depending on the difficulty of the river, but I feel very comfortable in the Necky Blunt.
Playboat:
Riot Dominatrix 47.
Favorite
river:
Difficult to choose, but Futaleufu in Chile is probably the best.
Motto:
Trust your instinct.
Credits
Paddler: Dennis Franzén.
Safety: Patrik Jönsson, Mattias Wagenius and Erik Westberg.
Photos: Erik Westberg and Per Ernström.
Video: Rikard Hellkvist.
Text and video: Lars Larsson.
Video editing: Per Nyberg.
(This article was first published on FreestyleKayaker.com in 2001).